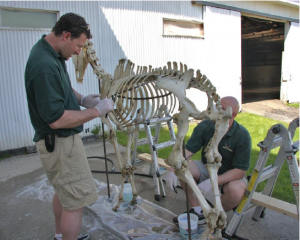 This is Black Hawk 20 ?
   Why The Morgan Horse Heritage Foundation is 
proud  of its restoration of his skeleton
A skeleton of Black Hawk is on  displayed at the University of Vermont's Morgan Horse Farm for many years, subject to the dust and bird droppings that routinely occur. This year the Morgan Horse Heritage Foundation resolved to honor this historic skeleton by having it cleaned and preserved before having it encased for the future.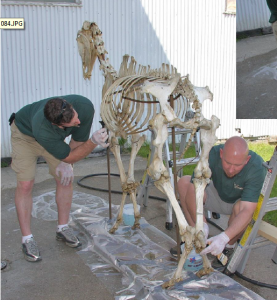 His story really begins with his dam that was known as "Old Narragansett", because she both trotted and paced, coming to the USA from Canada where her background was Wildair breeding.  While owned by John Kelly, one Israel Esty challenged Kelly to a match with $50 at stake; the Kelly beat the Esty trotter. Then Kelly took advantage of a trip to 
Durham by John Bellows with then 24-year-old Sherman Morgan  in 1832 and had the black mare bred.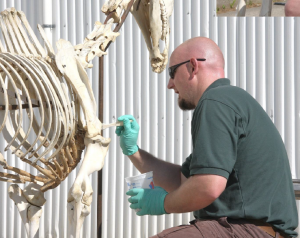 Result was that a colt was foaled early in 1833, then sold to a Seavey who broke  him and paid $60 as a two-year-old. He escaped being gelded when A.R. Mathes  took him and sold him for $200 to Benjamin Thurston who gave  him his  name:  BLACK HAWK. He matured  at 15 hands and 1000 pounds, a smoothly balanced horse with large eyes  and noticeable nostrils. His career left him unbeaten in trotting exhibitions. A purse 
of $1000 was claimed in 1842 in a  five – mile race and at age 10 he conquered challengers at two miles.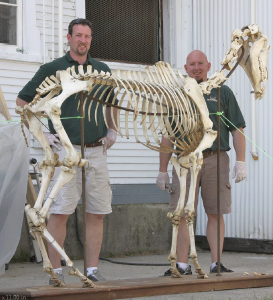 His best time for a mile was 2:42.  When he became David Hill's horse in Bridport, VT.,
the Albany Trotting Club matched him  against Morse's Grey from New York State,
with Black Hawk winning in 2:43 for his last race. He had 186 mares booked
that year, no preliminary training, and was age 14. This is  a project that is ongoing.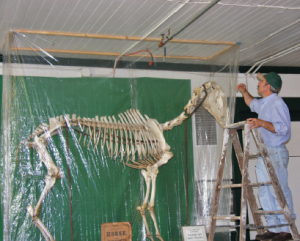 Currently Black Hawk is on display at the UVM Morgan Horse Farm located in Weybridge, VT
If you would like to make a donation for this project, please download the MHHF Membership/Donation Form or click on the Paypal link below: